3
For a welcoming home, creating a cosy environment with a pleasant temperature is essential.
Indeed, a warm welcome is synonymous with hospitality, receiving and greeting someone. By paying attention to detail and by hugging your guests warmly, you can make your home truly welcoming as they step inside it.
And an apparently marginal product can be turned into the heart of a comfortable home. A thermostat that blends in perfectly with the design of your home not only allows you to adjust the temperature according to your needs, but also adds a touch of style.
Namely, with flush-mounted thermostats you can obtain a thinner, more sophisticated design, leaving only the functional part of the device exposed/visible and the mechanical part recessed in the wall.
As with all thermostats, flush-mounted models also let you manage the heating and cooling system and are available in the basic version with digital or knob control, or with daily or weekly hourly programming. You can also select the most suitable model for your electrical system (battery or 230V).
The only constraint for installing a flush-mounted thermostat is that the wall requires a flush mounting box (type 503 or round). If the latter is not provided, it can be created with minor masonry work.
A universal programmable thermostat to suit any style
Flush-mounted thermostats are the ideal solution to be paired with the civil series to match the furnishings in the room.
In order to fit in with all plates available on the market, many Fantini Cosmi Intellicomfort flush-mounted thermostats are equipped with a multi-plate kit consisting of a programmable thermostat, coloured covers, frames and adapters in 3 different colours (white, silver and anthracite).
Change the look of your thermostat whenever you want
Thanks to this universal kit, you can match the covers of the thermostat to those of the civil series in your home in a few simple and entirely safe steps.
You can also change the plate later on, since the aesthetic component is separated from the functional one. Moreover, thanks to the password lock, all settings remain unchanged even after it has been replaced.
Intellicomfort models have a large backlit display that allows you to view the set program and the room temperature at any time, giving the flush-mounted thermostat a modern, high-tech look.
The battery-powered version of Intellicomfort also allows you to remove the body of the programmable thermostat from the frame after it has been fixed and connected, so that you can easily adjust or programme it while holding the device in your hand.
Here is a selection of the best flush-mounted thermostats by Fantini Cosmi: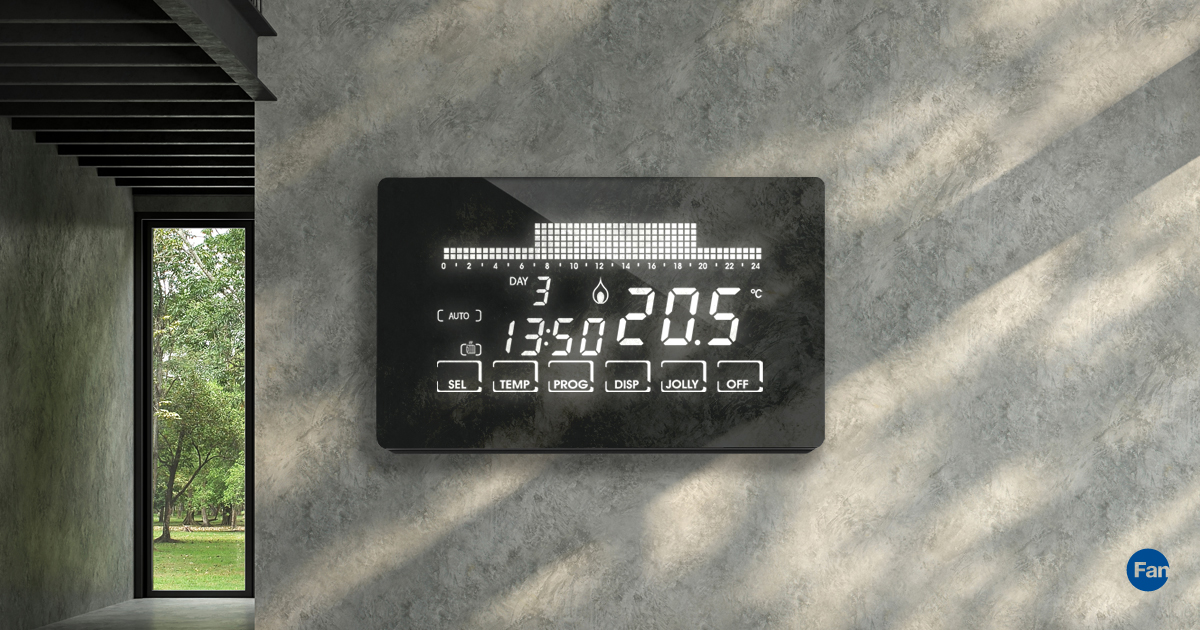 With Fantini Cosmi design meets flush-mounted thermostats