7
Being competitive on the market is an increasingly important challenge for companies worldwide. The manufacturing quality of products, a sophisticated design that meets customer expectations and the actual efficiency of devices are the factors that make the difference when it comes to meeting this challenge. Fantini Cosmi successfully combines all these aspects in its production, with an additional one: an Italian heart.
A history of quality, written from the heart
Since 1931, when the company was founded in Milan by the Fantini family, the operational headquarters and the main production site have always remained in Italy, also during the worst times of economic crisis.
During World War II, the factory was bombed and production relocated to Soresina, in the Cremona province. However, in 1954, the company returned to Milan and experienced a period of growth as a result of the economic boom of those years. In 1992, the company moved to Caleppio di Settala, in the Milan province, with modern and functional factory and laboratories, and is still based here.
From the first industrial electrical appliances of 1931 to state-of-the-art fans, thermostats and heating systems for industrial and civil use, Fantini Cosmi has always designed its products in Italy.
In 1985 it launched the first digital programmable thermostat produced in Italy, Intellitherm C21, which conquered the market and marked a turning point, prompting the company to step up its investment in electronics.
Many other devices followed, which successfully entered Italian homes; the Fantini Cosmi Intellitherm C25, C31and C57 programmable thermostats, the flush-mounted Intellitherm C49 model and the Intellicomfort CH180 and CH193 series of touchscreen programmable thermostats are among the most iconic.
While continuing to grow and establishing itself on the global market, Fantini Cosmi has remained a family-run, streamlined and dynamic business, and has never given up its distinctive "Italian heart".
In more than 85 years of history, this heart has allowed it to enhance its technological devices with style and quality, allowing it to satisfy even the most demanding customers. This pure Italian spirit is a real added value.
A challenge to be met by looking to the East
Every day, Fantini Cosmi's management team and R&D department strive to keep up with and anticipate global trends.
Without a doubt, Asian countries – with their industrial power and low-cost labour – are the countries to keep an eye on and to compete with.
However, in places where others prefer to focus on cutting prices, this historic Italian company bets on painstaking design, production processes and device efficiency, along with cost optimisation and the essential focus on customers.
Made in Italy products have long received accolades and many have attempted to imitate them in global markets, especially in the East. So why not choose products guaranteed by an "all-Italian" approach?
Fantini Cosmi thermostat: elegant Italian design, for over 85 years
If there is one field in which Made in Italy is universally recognised as a model to follow, it is certainly that of design. Fantini Cosmi places great emphasis on this key aspect of living comfort, as it considers its devices to be an integral part of the style of a home
Since the 1980s, the company's attention to design has prompted it to entrust the aesthetic design of some of its devices to a true legend of Italian style: Giorgietto Giugiaro. His C25 and C26 programmable thermostats, among the very first electronic models produced in Italy, were a huge commercial success and brought once and for all the Fantini Cosmi thermostat into people's homes and thus to people themselves. Years later, in 2003, Giugiaro designed two more programmable thermostats for the company, the C75 and C76 models, with smooth, sinuous lines.
Over the years, Fantini Cosmi's commitment to careful design has continued to grow. In addition to functionality and safety, the aesthetic element has been increasingly taken into account: design is the cornerstone of every new product in the Fantini Cosmi residential line, which is intended to become an elegant and sophisticated furnishing item.
To this end, the company teams up with other leading Italian industrial designers. For example, Marcello Vecchi, who from the mid-1970s to the early 1990s designed the winning style of many Vortice extractor fans, and who in 1989 was awarded the Compasso d'Oro for the Bidone Lavatutto Aquadry by Alfatec.
He collaborated with Fantini Cosmi from 2010 to 2014, designing the first universal fan for the Aspira brand: Aspirante. A model with a truly distinctive style, which the designer then developed into the successful Aspirvelo series. Thanks to their clean and essential lines, all Aspirvelo devices can be easily installed in any type of residential and retail premises. Among these, the Aspirvelo Air ECOCOMFORT model was extremely successful: it can change the air in a room while recovering its heat thus reducing heating-related consumption.
Another important collaboration has been underway since 2005 with designer Marco Fossati, who over the last 12 years has designed a number of devices. For example, the flush-mounted C37 and C38 thermostats, which were launched on the market during the 2018 edition of ExpoComfort, Italy's leading trade fair.
As well as the Intellicomfort CH180 touchscreen and Intellitouch CH193 Wi-Fi touchscreen programmable thermostat range, which are fine examples of modern sleekness and elegance.
And, before that, the C60/C63 thermostats and the Intellitherm C68 and Intellicomfort CH140, CH141 and CH150 programmable thermostats, the latter awarded the "Comfort&Design" prize during ExpoComfort.
Design evolves, Italian spirit remains
Over the years, the functional needs and technological features of devices such as thermostats have evolved. This has led to a transition from physical interfaces with doors, buttons and selectors to touchscreen interfaces, where all functions are at your fingertips.
Naturally, the design of the product has also adapted. Today, the aesthetics of the frame is carefully designed as is the software interface, which must be easy to read and use while being pleasing to the eye in a stylish living environment.
As Managing Director Franco Brambilla said: 'We will continue to research and develop products that are not only efficient and high-performing but also beautiful. Fan extractors, thermostats, heating and hygiene systems… These objects enter our homes. And they must become an aesthetically pleasing addition to interior design that blends in seamlessly with different home interior styles.
A true passion for quality and beauty. A passion with an all-Italian taste.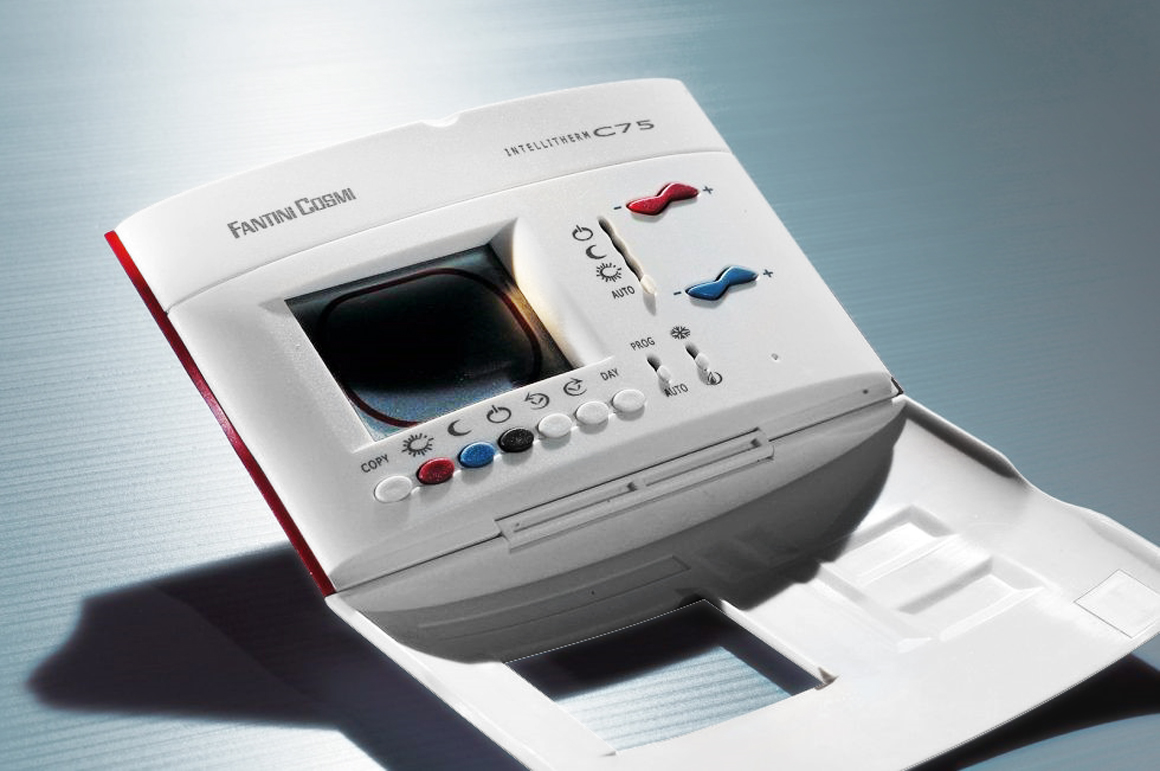 designed by Giugiaro 2003